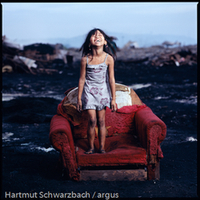 A German photographer, Hartmut Schwarzbach, is a finalist for the Sony World Photography Awards 2009. His entry portrays the children of a charcoal burner's camp in Manila. According to an article on the BBC News website, around 30 million Filipinos live in poverty. For comparison, the UK's population is at around 61 million.
This photo won the third-prize in the UNICEF Photo of the Year 2007. It shows of one of the camp's children, Annalyn, on her ninth birthday.
Read more about this at:
Also take a look at the related post about Payatas, Metro Manila's rubbish dump.