Staff Nurses to work a variety of shifts at a Military Rehab Hospital in Epsom.
Must be NMC Registered and have lived in the UK for 3 out of the last 5 years.
It would be beneficial to have a car and a drivers' licence, as the Public Transport links to the hospital are not great. Contact Steve on 0845 9000 197 to discuss or email [email protected]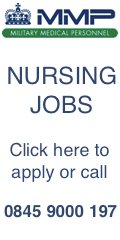 This is a premium advert. You may contact the advertiser directly.